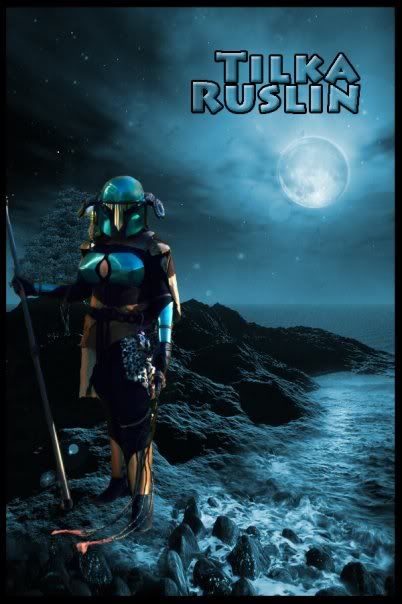 Yes, I know it's misspelled. Shush. :P Made for me by the awesome Samantha: http://partnaznkrime.deviantart.com/
This kit was probably one of the more fun kits I've done so far. I estimate it probably took me about a week or two of collecting materials and work time to get it finished since I was aiming for a Halloween debut. Tiika was never worn to any conventions, I really did just make it all only to wear it to hand out candy.
Helmet was Kora's old V1 helmet. I lopped off the lower back to install the suede cloth and added the horns. Undersuit was another two piece set up. No vest, just the cheapo corset I added leather to. Cape and kama pieces were made from leather skirts I found at Goodwill (bearing in mind that at the Goodwills back home I could find leather skirts for $3-$5 rather than the $15-$20 I see on this coast). Rabbit hide was purchased at D*Con 2009. Belts and the wedge heeled suede boots were also Goodwill finds. Staff was PVC with some spare studs and leather glued on (this is the Staff of Doom, FYI ;) ).